Yesterday I read a new YA book called Something Real by Heather Demetrios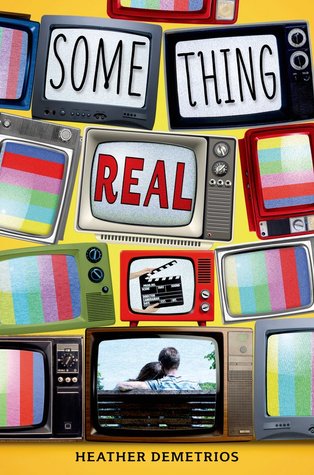 Something Real stars a reality TV show family with 13 kids. Trying to complete with the Duggars are we? Anyway Chloe Baker or Bonnie as she's known on the show, has spent her entire life save four years behind the camera. Even her birth was filmed on national television! Excuse me but I think that is going a little too far, I mean who wants to have the entire country see you being born? Anyway, filming stopped when she was 13 years old and by the time Chloe is a senior in high school, she starts to think that her life might finally be normal. Until one day when the cameras reappear to her dismay. Will Chloe love her freedom to the point where she'll do anything to fight back? Read Something Real to find out! 
Seriously read this book! I haven't seen this concept done before and with today's reality shows starring kids, this is extremely relevant to what we might see in five or six years. Yes I'm talking to you, Gosselin kids. Fight back against the evil Kate! Even though this book is a little over 400 pages, it will fly by. I finished this book in a day and I was cheering for Chloe the entire time and you will too.